Preparing for Hurricane Season
The Pacific hurricane season started on May 15th, and we at Rescue Services encourage our Family and Friends to start preparing, if you haven't already.
As the premier water and storm mitigation company on Kauai for over 25 years, too often we see homeowners find out the limitations of their homeowners, hurricane or flood insurance policy after the damage has been done.
Here are some things you may not know:
-Everything is not covered – it varies from policy to policy, but is never 100%.
-Hurricane policies have high deductibles that many of us are not prepared for.
-The NFIP (flood) policy is extremely limited (something that we know from personal experience in 2012).
-You need both dwelling and personal property coverage (most do not have personal property coverage) and there are separate deductibles for both.
-Flood personal property coverage is actual cash value (ACV) only.
During the next few weeks, we would suggest scheduling a sit down with your insurance agent for a discussion regarding your insurance coverage. Prepare for the deductibles, know your coverages so the insurance adjuster does not break your heart explaining the limitations of coverage and deductibles after the fact.
If you have any questions or concerns, please call, email or private message us. We're happy to help where we can.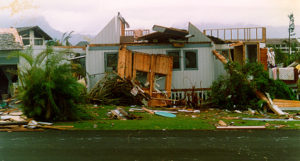 1. Know your coverages.
Check to see if you have hurricane deductible and flood insurance. Named storm and hurricane deductibles typically run 2% to 5% of the insured property value. If your home has an insured value of $250,000 with a 2% deductible, you would pay $5,000 out of pocket before your insurance company makes payment on the claim. Flood damage resulting from heavy rain or storm surge is excluded from most policies. Typically there is a 30-day waiting period before a flood insurance policy takes effect.
2. Check your property for obvious hazards.
Look for hanging limbs, loose shingles, unsecured children's play equipment, that broken garage window you've been meaning to patch since winter. In a hurricane, these things can become projectiles and cause damage.
3. Locate copies of your important documents and store off site.
In case of emergency evacuation, you'll want to have copies of your important documents such as your social security cards, birth certificates and banking information. Also include a copy of your policy and any information about how and where to file a claim for damages. Hard copies kept in a separate location, files backed-up on a secure internet site or a jump drive loaded with these documents can all ensure that you have the paperwork you need, when you need it.
4. Update your home inventory.
In the event of a loss, creating an inventory can be the biggest headache of all. Information such as purchase dates as well as receipts and photographs of your things can help when it's time to make a claim for damages.
You can use the NAIC home inventory app to get started.
5. Stock supplies for before and after the storm.
Everyone knows that Spam and water are the first things to disappear in a grocery store immediately before a storm here in Hawaii, but don't wait until a storm strikes to purchase basic repair supplies. Keep things like tarps, plywood, hammers and zip ties on hand for temporary repairs after a storm.
6. Keep your contact information up to date with your insurance provider and your agent.
Having your up-to-date contact information, and in some situations the contact information of a third party out of state if you evacuate, can help make any claims run smoothly. Your insurance company should make every effort to contact you with necessary information, but it is ultimately your responsibility to keep your contact information updated and to read and address all communication sent to you.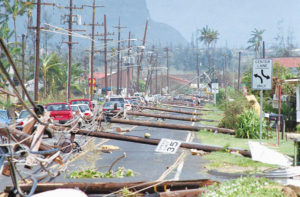 We are here to help anytime you need us.
Wishing you a safe season,
The Professionals – Rescue Services
808-652-5555 (emergency 24/7)
808-246-0405 (office)