Water Mitigation is Damage Prevention
You arrive home after a beautiful sunset at the beach only to discover your refrigerator supply line has broken, and water has been running onto your kitchen floor for hours. Your kitchen floor is tile, so you don't worry too much as you shut off the water valve – until you notice the water has run onto your hardwood flooring in the dining room, the carpeting in the living room, and has begun to wick up the drywall. This is typical household water damage – water heaters, ice maker lines, toilet supply lines, sinks – not the floods and hurricanes people imagine would cause the most harm.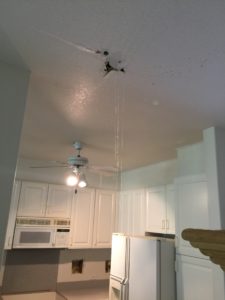 Water Damage – watch the video
Stopping the water source is the first step to recovery, and the next step is immediately calling a water damage mitigation company. Mitigation is defined as the act of making a condition or consequence less severe. The sooner your home is dry, the better the damage prevention.
If the excess water is removed by vacuum and high-powered fans are strategically placed to cover every damp area as soon as possible, that may be the end of your problem – after a couple days of drying, your home may be back to it's former condition. But what if you tried to clean up the water yourself with a shop vac and a floor fan? Or simply waited until your insurance agent was in the office the next day to answer your questions about what to do? You'd soon discover the secondary damage, and no mitigation has taken place.
Secondary damage comes in many forms – it can be the mold growth that occurs when even a small amount of water is left in your floors, walls or carpets; it can also be the buckling of your hardwood floor. Which scenario is easier – removing all traces of water after a leak by having several fans in your home after a technician has sucked up the water, or the parade of contractors replacing your floors, carpets, and drywall a few weeks after the water leak which wasn't properly dried? The answer is simple.
The Professionals – Rescue Services will respond to your emergency phone call within the hour – day or night – anywhere on Kauai. We have the knowledge and equipment to dry your home to industry standards and mitigate further damage. We are experts in homeowners insurance and our team can assist you with the entire claim process, and directly bill your insurance company for your loss. We make it as easy as possible for you.
You may still need some work done on your home, as in the above picture and video, but our technology gives you the best chance for saving other areas.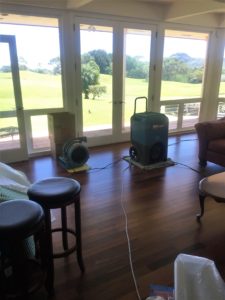 Our services for water damage mitigation are nearly always covered by your insurance. Secondary damage, caused by not properly drying your home after a water leak, is not covered by your insurance. That makes it simple to decide what to do when you return home to an overflowing toilet or broken pipe – call The Professionals – immediately.
The Professionals is the preferred mitigation company on Kauai for insurance companies such as HIG, First Insurance, State Farm, Dongbu, and more. We have worked closely with the insurance adjusters over the years and have a relationship which benefits you, the homeowner. Call us when you have a non-medical emergency – we are here to help.
Our next blog post will cover some insurance basics, and the differences between homeowners insurance and condo association insurance. Sign up for our blog so you don't miss this great information.
The Professionals – Rescue Services is here to help you in any emergency – from hurricane cleanup to a wet floor from a broken water line to smoke mitigation from a fire, and so much more. If you encounter any situation that calls for non-medical emergency service and don't know who to call – call us at 808-246-0405 – 24/7. We are here to help the entire island of Kauai.